Have you ever heard someone say your car loses half its value the second it leaves the lot? Probably. We're willing to bet that the person who told you that has never driven a Subaru before. And we're not just saying that because we're a dealer. Subaru has a history of producing industry recognized, highly desired vehicles that maintain their value well after you've picked up the keys.
In February of this year, Subaru was awarded with top honours in two categories for highest predicted residual value. These awards are given out by the Automotive Leasing Group (ALG), an organization whose Canadian arm was established in 1981 that collects, studies and disseminates information regarding the residual value of automobiles in North America. The ALG is considered to be the industry benchmark for forecasting vehicle values and many manufacturers trust it in predicting their own brand's financial health.
The 2014 BRZ took top honours in the Sports Car segment, with the ALG stating that the BRZ "rear-wheel drive coupe is one of the most exciting things to happen to the Sports Car segment in a generation. Offering the thrill of a raw sporting experience with the quality of the Subaru brand, the BRZ is a great mix of excitement and value. Few cars can match its feeling of connectedness to the road, even at twice the price."(ALG Canada). This is the second year in a row that the BRZ has taken the top prize in this category.
We also won in the Midsize Utility Vehicle (2 Row) segment for the 2014 Outback. Its predicted value remains high as a result of its "great loyalty and strong retention." According to the ALG, the Outback also benefits from its standard all-wheel drive and "car-like ride and handling." Like the BRZ, the Outback has dominated in this category in the past, with 2014 marking the fourth year it has won.
The manufacturer was also recognized in two other segments for 2014 as well – the XV Crosstek placed third in the Compact Utility Vehicle category, while the 2014 Impreza is the second highest predicted value-retaining compact car this year.
In fact, our vehicles have dominated in certain categories for the past few years. Check out these stats: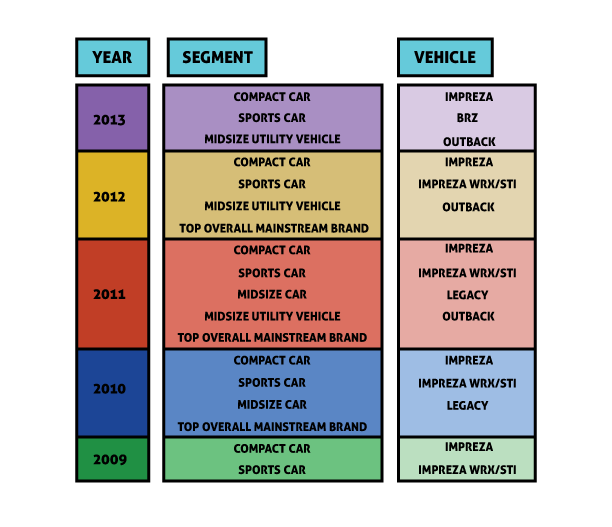 When you buy a Subaru, you become part of a proud tradition of beautiful design, quality manufacturing and impressive durability. Your new or previously owned car will retain its value for a longer time than similar brands and you can drive off the lot knowing you've made a smart decision