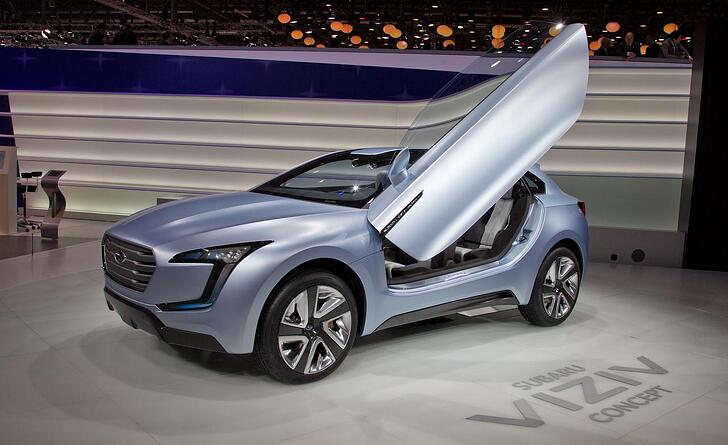 Last week Subaru unveiled a future generation crossover called the Subaru VIZIV 2 Concept (VIZIV 2) at the 2015 Montreal International Auto Show.
A testament to Subaru's value "Enjoyment and Peace of Mind" depicted in the Viziv Evolution Concept that was revealed at the Tokyo Motor Show in 2013, the Viziv 2 incorporates revised styling and innovative technology. Viziv is a term inspired by the phrase "vision for innovation" representing Subaru's vision of innovation and direction of the brand for the future.
A hybrid plug-in, the VIZIV 2 features a 1.6-litre Horizontally-Opposed direct injection turbo "DIT" engine, combined with a high-torque-compatible Lineartronic (CVT) with one front motor and two rear motors. It includes the new "Independent-rear-motor-driven symmetrical All-Wheel Drive (AWD)" offering impressive control based on road surfaces and conditions.
The VIZIV 2 offers four doors, a change from the VIZIV's previous two door model, a sporty cabin and can comfortably accommodate four adults. The design brings together elements of "environmental friendliness and driving performance" or "design and utility".
On the exterior, the VIZIV 2 sports an hexagonal grille and large circular lights. The core hexagonal shape of the body is also seen in the rear. The combination lights and strong fenders fit in with the overall look of rigidity and density that is characteristic of this vehicle.
Technology and innovation are reflected in the next-generation EyeSight system in the VIZIV 2 which uses stereo cameras to detect traffic conditions for a 360-degree sensing system.
Keep in mind that this is just a concept right now, and a way of Subaru showing its family the way it plans to head in the near future. There's no word when this concept becomes reality, but it is already gaining a ton of fans not only throughout the online world, with auto publication reviews as well.
Keep an eye on the blog and our Facebook page for more news regarding the VIZIV and other vehicles!