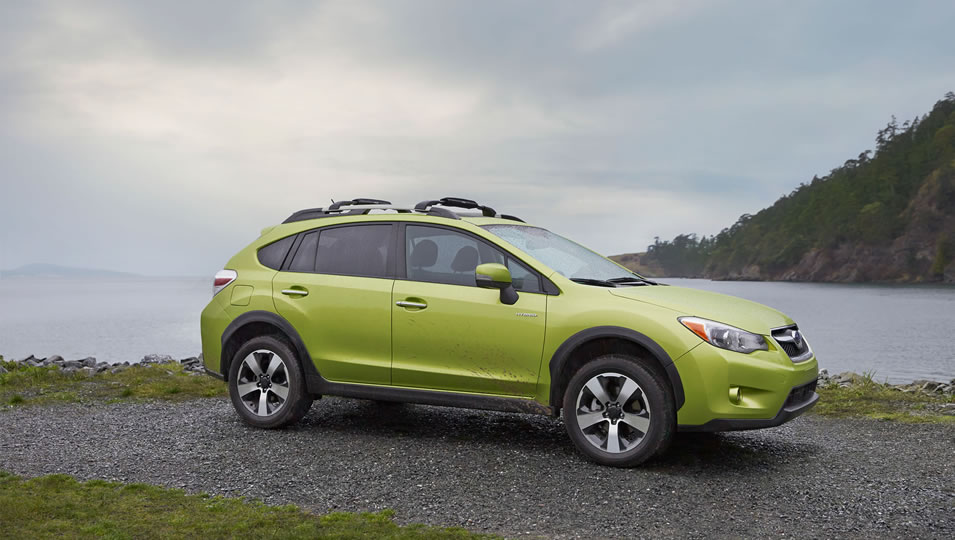 When it comes to vehicles, eco-friendliness and hybrids go hand in hand. Of course, there are other contributing factors, but a hybrid has become the face of environmental responsibility. And now Subaru has a hybrid that complements our sustainable outlook.
HELLO, HYBRID
The 2014 XV Crosstrek hybrid is Subaru's first hybrid, with everything you expect from us. It still has our standard All-Wheel Drive and boxer engine, so you don't have to give anything up, you just get more!
With the Crosstrek hybrid, you'll see the 148 horsepower, 2.0 litre four-cylinder engine paired with a 13.4 horsepower electric motor in the drive train. Are you doing the math? That means you get 160 horsepower to all four wheels with your CVT transmission.
Like we said, you aren't giving anything up with the hybrid Crosstrek. The gasoline engine is the same as the one in the non-hybrid Crosstrek. Subaru decided to insert the electric motor and equip the hybrid with fuel-saving features like low rolling resistance tires and active grille shutters to manage air flow around the vehicle. That's fuel efficiency and environmental responsibility all added to the Subaru you already know and love!
The 2014 Subaru XV Crosstrek Hybrid is a Subaru through-and-through — it comes well-equipped right out of the gate. If you're looking for comfort and convenience features that are perfectly suited to a long drive, look no further. If you want plenty of useable interior space for that next adventure, this is your crossover. In fact, if you want to explore and use less, this is the Subaru for you.