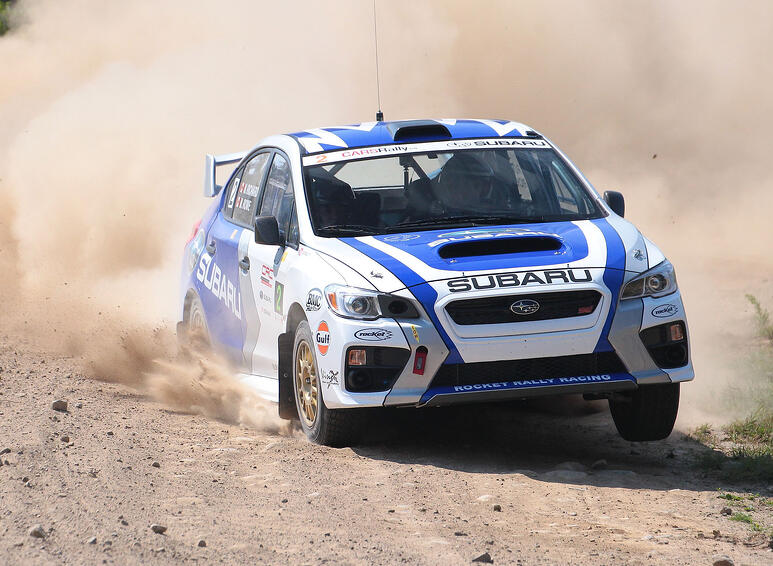 After last month's strong finish, the Suabru Rally Team Canada was looking for another successful race at the Rocky Mountain Rally, which took place last Friday and Saturday in Invermere, B.C.
The team of Martin Rowe and Nathalie Richard piloted their Subaru WRX STI for only the third time this season, and just like the previous two races, it continued to impress! The pair of drivers led the team to wins in three stages throughout the rally with no vehicle issues whatsoever. At the end of Friday's first day of racing, the team was only 40 seconds behind the leaders for the day.
On Saturday, which was the second day of the rally, the team was able to secure wins in three of the final five stages, which put them a mere 30 seconds behind the leaders. However, a couple questionable penalties on the team added 30 more seconds to their time, which was still good enough for a second-place finish and only about a minute behind the eventual winners.
The 2015 Subaru WRX STI rally car is proving to be very reliable and resilient throughout anything the rallies throws at it and continues to get quicker with each race. Along with the increased vehicle speed, the team is also becoming more comfortable with each other and the WRX STI, bringing positive vibes and general excitement to the entire team. It doesn't look like a first-place finish is that far away at all.
Driver Martin Rowe was quick to praise the Subaru vehicle after the race by saying "it is only the third rally for the 2015 Subaru WRX STI and we're in a fantastic place – the car is reliable, fast and showing it's pace and potential. From a driver's point of view, the car is amazing – I'm having a fantastic time driving the car and it is now in a place where I can tell the car what to do. We have some stiff competition, but it's not long until we win a rally outright."
The next rally for the team comes at the end of November in Bancroft, Ontario at the Rally of the Tall Pines. Look for a strong finish once again for the Subaru Rally Team Canada, and we'll be sure to keep you updated on their results!
You can get yourself into a Subaru WRX STI as well. Just come down to Subaru of Niagara and see exactly what Martin Rowe is talking about when he says it's "reliable and fast"! You won't be disappointed.