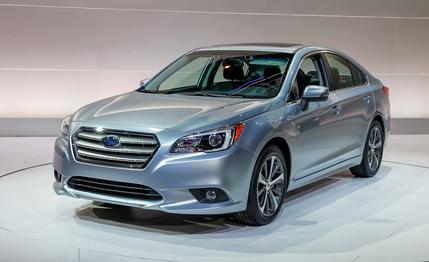 The Subaru Legacy has been announced as the 2015 Canadian Car of the Year by Automobile Journalists Association of Canada (AJAC) at the kickoff night of the Canadian International Auto Show… but you don't have to convince us twice.
With never before seen technology, an increased number of design enhancements, and overall strength boosts, the Legacy surpasses our imagination for a small vehicle. It is no surprise that it was able to beat out cars such as the Volkswagen Golf, Hyundai Genesis, and Mercedes Benz C 300 4MATIC in this category.
The Legacy's safety and technology make it stand out from other vehicles, earning it's title of 2015 Car of the Year. All Subaru Legacy designs come fully loaded with a full range of safety features to ensure maximum security for you and your passengers. Legacy models are equipped with advanced air bag technology, including eight airbags. The ring-shape reinforcement frame and high strength steel, ensures direct impact does not occur, and the energy is absorbed around the passenger compartment, not through it. All Legacy Models are also equipped with a smart braking system which includes an Antilock Braking System (ABS) which prevents wheel lockup. Electronic Brake-force Distribution (EBD) also ensures a full-brake stop when the driver is in a panic-stop situation.
Alluring sound is presented through the 12-speaker Harman-Kardon, 576 watt premium audio system that is available on certain models. Select your music, wirelessly through the Bluetooth enabled technology that seamlessly connects your device to your Legacy's speaker system. Select and browse music on the 7 inch high resolution touch screen on the Legacy dashboard.
The patented EyeSight Driver Assist available on the 2.5i Premium and Limited models as well as the 3.6R Limited, feature two cameras mounted above the mirror that monitor traffic allowing it to double as a second set of eyes on the road. This technology will warn drivers of dangerous conditions and can react to conditions before you do.
Stop by Subaru Niagara today to experience the all new Subaru Legacy and see for yourself why it was named 2015 car of the year!