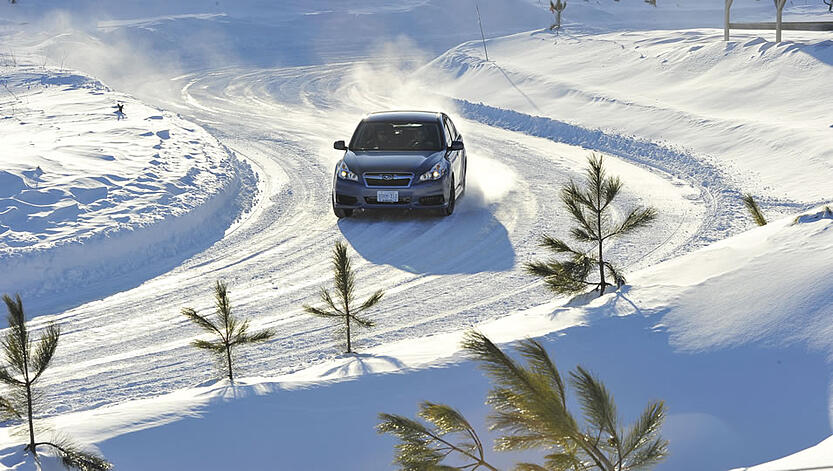 The first snow has fallen here in Southern Ontario, and we want to make sure that you are safe on the roads this winter. We all know that any sort of extra work in the winter is no fun, but a little extra work in regards to your vehicle will keep you safe and comfortable on the road. There are a few myths about winter vehicle maintenance, and we are here to help you debunk some of them, and help you get your vehicle prepared for winter.
CLAIM: ALL-SEASON/ ALL-TERRAIN TIRES ARE JUST AS EFFECTIVE IN THE WINTER AS WINTER TIRES
The fact is that winter tires weren't just created to drive sales and raise profits. They were developed because regular and even all season tires are not built to handle the winter as well as winter tires were. Regular tires are not designed to have as much traction as winter tires are designed with. Yes, this includes cars operating with AWD (All Wheel Drive) or 4WD. The big issue with driving in the winter is all about traction, and winter tires feature specially developed rubber and tread patterns that were developed and designed specifically with snow in mind. On the reverse side, cold weather makes regular tires stiffen out and actually lose traction, while winter tires are built to remain flexibility and retain the highest levels of traction possible.
CLAIM: CARS WITH AWD DON'T NEED WINTER TIRES
It's easy to fall under the assumption that AWD enabled cars are built to combat the need for winter tires, but the reality is that winter tires actually enhance your AWD driving experience. AWD systems provide optimized power transmission delivery, but don't help much in terms of steering and braking situations. AWD is a feature made to improve performance, not safety. The Technology behind the AWD feature is engineered to help a vehicle accelerate, however it does not help a vehicle steer or stop in a shorter distance. That's where store tires come in. The distance in which your car stops all come to how much traction and grip your tires have and this is why winter tires are made. Winter tires do not compete with AWD technology, but make your AWD experience in the winter that much better.
CLAIM: "THERE'S NO POINT IN KEEPING MY CAR CLEAN DURING THE WINTER. IT'LL GET DIRTY AGAIN AND ITS A WASTE OF MONEY"
Maintaining a clean car in the winter is a challenge compared to other parts of the year. Especially in Ontario, where snow falls for more than 3 months. However keeping a clean car comes with its benefits. Car care protects our cars, ensuring that they last longer and preserves a higher resale value. Ensuring that built up ice and dirt is removed also keeps you safer. You would hate for a piece of ice or snow to interfere with your vision of the road while you're driving. Also the elements that make our cars appear dirty, actually eat away at a car's metal parts, which in turn can compromise safety.
For more expert advice on facing the harsh realities of the winter roads, and ensuring the best and safest travels, come into Subaru of Niagara today.