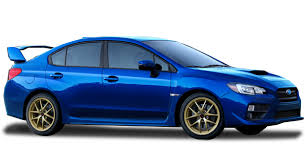 The Subaru Impreza is being "freshened up" for 2015!
The vehicles styling has been upgraded slightly, to make it look like part of the 2015 Subaru family, and bring it closer in aesthetic design to their Legacy and Outback. Some of these changes include a new bumper, a newly designed front grill, and slightly remodelled headlights. The side mirrors on the car have also been redesigned to reduce wind noise and drag.
The 2015 Impreza will also be available with Subaru's EyeSight system, featuring adaptive cruise control, automatic emergency braking and more. Just another feature to keep you, the driver, safer on the road!
EyeSight is just the first of the technological upgrades. Subaru's infotainment system is also in this vehicle, and features a 6.2" touchscreen, and allows you to connect your iPod or iPhone to Bluetooth, and all of the Imprezas will have a reversing camera.
Subaru's 2.0-litre Boxer engine is back, and so is the great fuel economy that the Impreza is known for. Although this time around, Subaru has given the Impreza fitted low-rolling resistance tires, and an Eco-Guage to help understand your consumption of fuel.
Subaru has not yet announced a price on the 2015 Impreza, but the starting price shouldn't deviate too far from the 2014 starting price!
Keep an eye on the Subaru of Niagara blog for more updates on the 2015 Impreza!