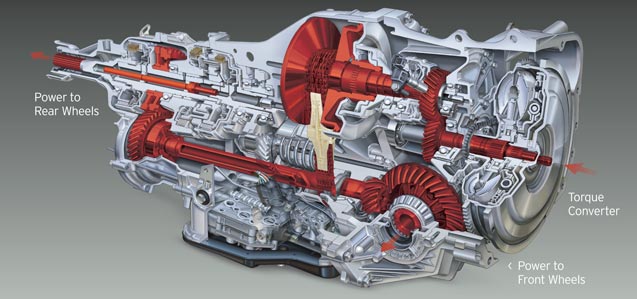 Driving a Subaru is always a great experience and it's easy to see why. They offer power, exceptional fuel-economy and a smooth ride. One of the things that contributes in significantly to the Subaru experience is the Lineartronic® Continuously Variable Transmission (CVT). When you drive a CVT equipped Subaru, you'll feel the difference.
How it differs
Automatic transmissions use a series of mounted gears, called planetary gears, that rotate, lock, and unlock in different combinations to convert the engine's output in the power that propels the vehicle, via a torque converter. As the driver presses or releases the accelerator, the transmission switches gears and increases or decreases the power transferred from the engine to the wheels. Because these gears are set to specific ratios, there is a noticeable "step" as the transmission changes, resulting in a noticeable feeling for the driver and passengers.
The Lineartronic® CVT uses two hydraulically operated, adjustable pullies with a chain link that connects them and utilizes a step-less gear ratio that allows the engine to run at its optimal power range. Because there is no mechanical shifting, the driver and passengers will hardly notice when the transmission switches gears.
Automatic & Manual
Lineartronic® CVTs offer two driving modes to improve the driving experience; automatic and manual. When using the car's automatic mode, the transmission adjusts instantly as the throttle is applied and momentum that is typically lost with a conventional automatic transmission is maintained. In Manual Mode, the driver can use paddle shifters mounted on the steering wheel to select the gear ratio best suited to the situation. In this mode, the driver is offered a sharper and sportier experience.
Responsive
By eliminating mechanical gear changes and instead utilizing step-less changes, the CVT causes the powertrain to be more responsive when the throttle is applied. As a result, the vehicle speeds up and slows down faster and smoother than with a typical transmission.
Better Performance
Subaru's Lineartronic® CVT essentially offers an infinite number of gear ratios, causing it to constantly locate the "sweet spot" for power and performance as it shifts up and down. Traditional automatic transmissions only shift during a defined minimum and maximum RPM, decreasing your fuel economy as you are not constantly receiving the maximum power and performance of your engine while you drive. Also, because the CVT is a sealed unit, it requires no regularly scheduled maintenance, reducing the cost of maintain your car.
The Lineartronic® CVT, especially when it's combined with Symmetrical All-Wheel Drive and a BOXER engine, not only improves the already awesome experience of driving a Subaru, but helps you save money at the pumps and at the service desk, all while offering a sportier, smoother drive. The Continuously Variable Transmission is available on the Forester, Impreza, Legacy, Outback, WRX/WRX STi, and XV Crosstek.