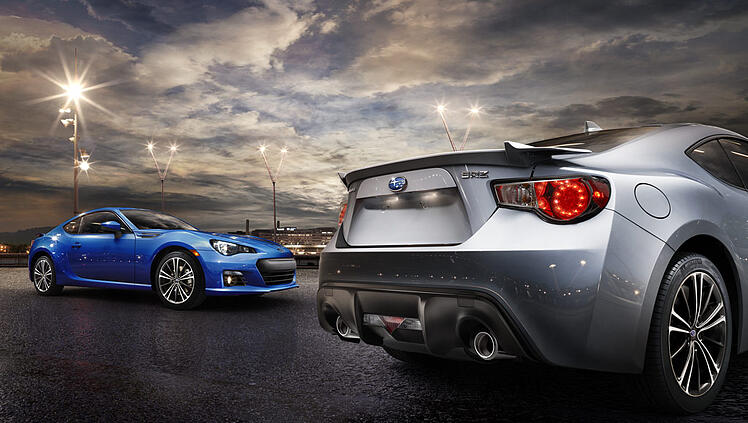 On June 6th, Subaru Canada announced the release of the 2015 BRZ. Delivering power, economy and a huge range of other benefits, it's a sports car that's unlike any sports car you've ever seen before.
Power & Economy
Subaru wasn't going to build a sports car without giving it sports car power under the hood. The horizontally opposed Boxer engine delivers 200HP at 7,000RPM and 151 lb.-ft of torque at 6,400 – 6,600 rpm. The Dual Active Valve Control System helps contrast the BRZ with other sports cars as it makes the car responsive in low- and mid-range torque situations that you'll encounter in daily driving.
All that power doesn't mean expensive trips to the pump though. The BRZ offers manufacturer-estimated ratings of 8.3L/100KM combined with the 6-speed manual transmission and 7.2L/100KM combined with the 6-speed automatic.
Both transmission options have been tuned to provide a responsive and sporty driving feel. Drivers who opt for the automatic transmission will be able to select from two modes depending on how they feel like driving; Sport mode, which offers a sportier shifting response, or "M" mode, which allows drivers to shift manually using the centre console shifter, or the sleek steering-wheel paddle shifters, perfect for drivers who want total control over their experience.
Unmatched Handling
The manufacturer took a different approach to their design process versus other sports car manufacturers. Sports cars, in an effort to provide ultimate power, luxury and performance, tend to be heavy and expensive. Not the case with this car. Subaru used high-tensile steel, as well as an aluminum hood, to bring the car's weight down to just 1,253KG, and because of the Boxer engine's low weight and concentrated mass, the car's centre of gravity is 460 millimetres, one of the lowest in the world.
A low centre of gravity is a characteristic of all Subaru vehicles and the BRZ is no different. Also contributing to the vehicle's low centre of gravity is the engine's placement, which is lower and farther back than any other model and its configuration, placing pieces in order to ensure the car is well-balanced front to back and side to side. This optimized design, combined with standard Vehicle Stability Control and traction control system gives this rear-wheel drive machine a firm grip on the road and responsiveness during hard cornering that most other sports cars can't provide.
Awesome utility and equipment
The new edition isn't just a car for driving and showing off; you can use it for your daily life too! The trunk offers 196 litres of space with the seats up, but nearly doubles that when the rear seats are folded down. Parents of young children won't have to give up their sports car dreams either – the rear seats can accommodate a front facing child seat with the front seats in the upright position.
Standard equipment in the 2015 model includes a voice-activated GPS system with a 6.1 inch LCD display, XM satellite radio and NavTaffic (subscription required), AM/FM stereo with single disc in-dash CD player and inputs for USB and 3.5mm auxiliary audio. You'll also be able to wirelessly connect phones and other devices with built-in Bluetooth connectivity.
There will be additional trim levels available for the 2015 edition: the Sport-Tech, featuring the above amenities as well as heated seats, keyless access and start and dual zone climate control, and the all new Sport-Tech Aozora edition, which will offer a suite of interior refinements, two exclusive colours, and STI components. The Aozora edition will only be available with a 6-speed manual transmission.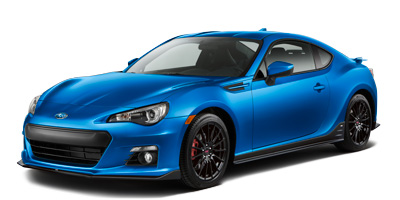 Continued Commitment to Safety
Subaru has continued to use the same safety systems that have made them an industry leader in safety for the last decade. All models feature the Advanced Frontal Airbag System for crash protection as well as 4 channel / 4 sensor Anti-lock Brake System with Electronic Brake-force Distribution and Brake Assist to ensure safe and responsive braking in all situations.
We're excited about the release of the gorgeous new BRZ and can't wait to show off its versatility as a sports car that's built for everyday driving! Stop by today to book your test drive!