What makes a Subaru different? There is plenty. But amongst them is the boxer engine that adds to the optimal performance and power of the Subaru engine. Every Subaru is equipped with a boxer engine, we believe that when you have a great idea it shouldn't be exclusively reserved for the highest end models. Everyone deserves the best from their vehicle, this boxer engine delivers on every model we offer.
WHERE THE NAME COMES FROM
The name Boxer Engine is born of the actual motion of the pistons resembling the jabs of a boxer. The layout allows the engine to be positioned in-line with the drive-train for maximum transfer of power. Most engines are transverse (certainly other engines that are comparable to the Subaru line-up in model and price), meaning that they are turned perpendicular and require additional drivetrain components to transfer power. Just as it sounds it would, this dramatically reduces vehicle efficiency.
The punch movements of the boxer's pistons equal a smoother running engine without having to use those additional components to counteract them as in many in-line or V type engines.
LOW PROFILE (IT'S A VERY GOOD THING)
Because the pistons moving horizontally, the engine in your Subaru is flat, low profile and almost perfectly symmetrical. Just as it sounds it would be, the results is a very well-balanced vehicle with a low centre of gravity. This translates to quick handling response and flat, confident cornering.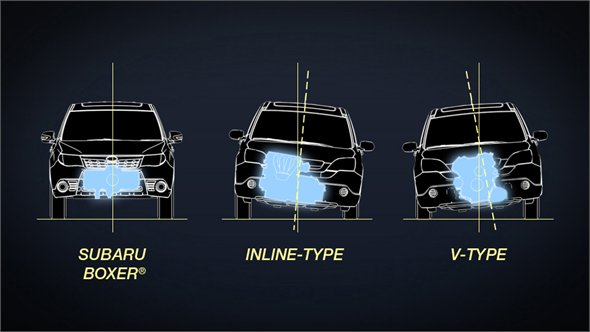 SUBARU BOXER ENGINE OPTIONS
 
2.0-liter and 2.5-liter Flat-4Producing 148 and 170 horsepower respectively these 4-cylinder engines combine capable power, impressive efficiency, and impeccably smooth operation.
2.5-liter Turbocharged Flat-4

Available in 227, 265 and 305-horsepower versions, this turbocharged, intercooled 4-cylinder engine provides maximum power for exhilarating performance.

3.6-liter Flat-6The largest SUBARU BOXER engine available, this 3.6-liter 6-cylinder serves up 256 horsepower and 247 lb.-ft. of torque.
Want to learn more about the Subaru Boxer Engine or check out the drive difference on these vehicles for yourself? Get in touch with us and you can take one out for a spin!