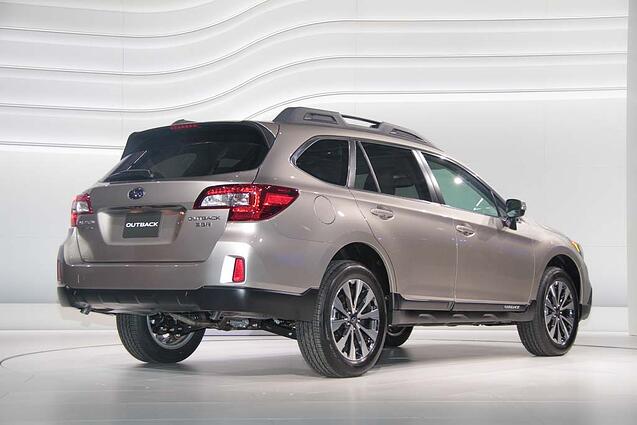 Canadians are becoming increasingly smarter buyers, who want value for their money without compromising on quality. It sounds cliché doesn't it? It also sounds pretty accurate. They do their research, compare prices and features and look for the product with the best offering. This is true for all products, in all industries, and the automotive industry is no exception. Subaru Canada is continuously taking into consideration all the factors that influence a buyer's decision and trying to incorporate the best features into their cars. The results have been evident and rewarding as during the month of August 2014, with sales of up to 3,691 units, an increase of 10.5 percent from August 2013!
SMART CUSTOMERS. SMART CHOICE.
The all-new Subaru Outback 2015 has not been a disappointment to the Subaru Brand, which boasts safety, durability and exceptional value. Although the Outback 2014 was a big hit as well, offering a spacious interior and a standard all wheel drive among other features, the 2015 version is sleeker, has more space in the front, safety options that include blind spot monitoring and an adaptive cruise control. It is also fuel efficient beyond expectation and has impeccable driving dynamics.
Other great hits for Subaru include the 2015 WRX STI line and the 2014 VX Crosstrek.
STATISTICS
It is a lot of numbers, but it is also a reflection of the accomplishments that Subaru has gained during the month of August.
Sales of 3691 units, 10.5% increase from August 2013.
Subaru Outback sales of 883 units retailed, a 74.9% increase.
WRX STI sales increase of 35.1%
XV Crosstrek sales increase of 12.5 %.
REGIONAL SALES INCREASE RESULTS AS OF AUGUST 2014
Atlantic Region 12.7 %
Quebec 4.8 %
Ontario 17.4 %
Western region 9.5 %
FROM THE PRESIDENT
To sum it up, Shiro Ohta, Chairman, President and CEO of Subaru Canada said, "Our drive to create exceptional vehicles helps us deliver an unparalleled driver and owner experience." He added, "I'm pleased that Canadians are recognizing what Subaru has to offer in our product lineup – as one example, our Outback has recently earned awards from the IIHS, Car Guide, Canadian Black Book and ALG (Automotive Lease Guide). These awards, along with our long-standing reputation for safety, durability and value, have elevated the Subaru brand in our customers' minds."
It is an exciting time for us to be working with his growing global brand, we wanted to share the good news with all of you! As always, the team at Subaru of Niagara is excited to get you into a vehicle on a test drive and soon see even more Subarus in the driveways of smart, savvy and ecstatics Niagara drivers!