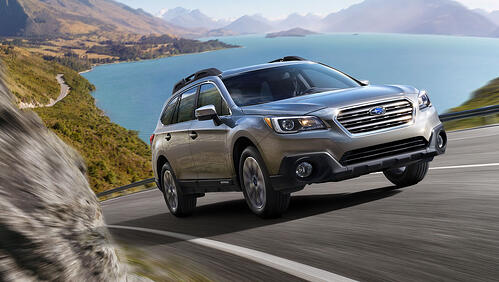 We hope you all had a fantastic holidays, we sure did!
December marked the 12th consecutive month (that's right, a year) of record-breaking sales for Subaru Canada. Last December, Subaru Canada sold 2,704 vehicles which is an impressive number in itself. However this past December, the company sold 429 more vehicles for a whopping total of 3,133!
The success of the past month was spread almost evenly among Subaru's star-studded lineup, with the Outback, Impreza, Legacy, and the WRX-STI showing impressive numbers. The Subaru Outback also counted December as its best month ever, with sales up over 80% from last year. It's no wonder the Outback was AJAC's Best New SUV for under $35,000 and a 2015 IIHS Top Safety Pick.
Shiro Ohta, president and CEO of Subaru Canada released a statement saying "As I reflect on 2014, I am pleased to say that this has been a truly impressive year for our brand. Subaru has enjoyed back-to-back sales records over the past 12 months, culminating in the highest annual sales in company history. This could not have been achieved without the passion, commitment and hard work of our strong dealer network. We've also benefited from the recognition of industry-leading heavyweights for Subaru's award-winning safety, value, performance and overall fun behind the wheel."
The numbers are displayed below in a chart to show you the growth between last year and this year (Impressive if we say so ourselves).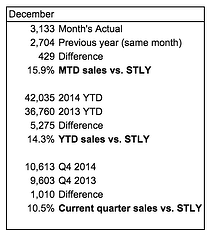 We are looking to make 2015 an even better year, so now is your chance to come into Subaru of Niagara and see why everyone seems to be turning to Subaru! Click below to get started!