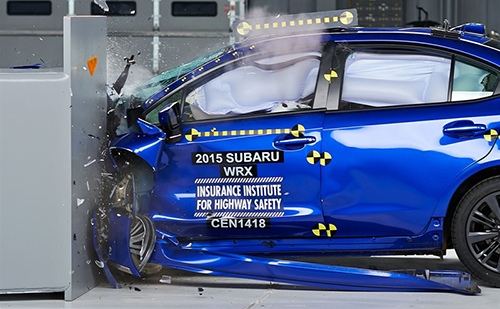 It feels like every time we take to the blog, we have a new announcement to make. This time it's about the 2015 Subaru WRX. We have told you all about how awesome it is, and now we have recognition from the Insurance Institute of Highway Safety (IIHS) to prove it. Our favourite sports car has earned the IIHS Top Safety Pick award for good performance in each of the IIHS's crashworthiness evaluations, including the small overlap front test.
FIRST TIME FOR EVERYTHING
This is the first time the IIHS has ever rated the WRX, following its recent complete redesign for 2015. In the past, it has always been rated in connection with the Subaru Impreza, but this year it was decided that there are sufficient difference for the vehicles to now be rated separately.
THE TEST
The small overlap test was introduced by the IIHS in 2012. It is more challenging that the head-on crashes that are conducted by the government and the IIHS moderate overlap test. During this evaluation, 20% of the vehicle's front end on the driver's side hits a barrier at 65 km/hour, replicated what happens when the front corner of a vehicle hits another vehicle, tree, pole or other object.
In this test, the WRX held up, meaning the driver's space was maintained during the collision. The dummy's movement was well controlled and it proved that there was a low risk of any significant injuries. The front and side airbags deployed with enough coverage to protect the driver from head injuries against the front or side structure of the vehicle.
Not only did the WRX do well in the small overlap test, but it also earned good ratings in the moderate overlap front, side, roof strength and head restraint tests!
SUBARU SAFETY
Now that the WRX has been awarded an IIHS Top Safety Pick, Subaru has six models that have earned 2014 safety awards from the Institute. We boast three Top Safety Picks and three rated as a Top Safety Pick+!